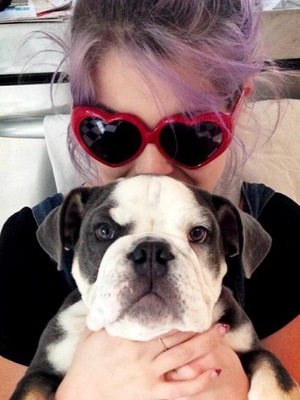 Kelly Osbourne has shared a gorgeous picture of her pet bulldog Willie, who she has branded as "beautiful".
The
Fashion Police
host adopted the grey and white puppy in April and it's fair to say she's fallen for him big time.
Last night (6 June), Kelly uploaded this photograph to Twitter and it shows her cuddling Willie at home.
Kelly is wearing a funky pair of red heart-shaped sunglasses in the snap and is holding her mutt on her lap.
Alongside the picture, the star tweeted: "Have you ever seen a more beautiful bulldog in your life?"
He's definitely a looker, that's for sure!
Willie is the latest addition to Kelly's brood of furballs. She also has two Pomeranians called Sid and Story.
Kelly even brings Willy to work with her!!

How spoiled is he!! Willy is also a hero!!, saved his momma Kelly from being hit by a car!